I can't quite place it, but there's something about Brazil.  It's got this palpable, positive vibe to it.  People there are so friendly.  Their friendliness is even more apparent if you can communicate somewhat competently with them.  My biggest regret, in addition to not being able to spend more time to exploring the entire country, is that I didn't know Portuguese.  I learned a few words and could make some sense of the language thanks to my novice Spanish.  Next time I go to Brazil, I will learn Portuguese- and there will be a next time.  I'm all about seeing the rest of the world, but some places really deserve more than one visit.  Brazil is one of those places.

And Rio de Janeiro wins first place as the most beautiful city that I've ever visited in the world.  It's got scenic heights with views of the ocean and the city.  People there are so relaxed and laid-back.  This attitude is contagious.  I could be perfectly content just hanging out doing absolutely nothing but hanging out on the beach, or sitting in the shade reading.
The nightlife is fantastic, too.  I went out in the Lapa neighborhood on consecutive nights and come back late.  The streets were crowded with people and vendors.  There was samba dancing in the streets outside some of the bars.
I went with some other travelers to the Escadaria Seleron, a colorful staircase in Lapa designed by an artist, during the first night.  Our group joined a random group of Brazilians and we spent the entire night just hanging out on the stairs.  It was taken aback about how laid-back the atmosphere was.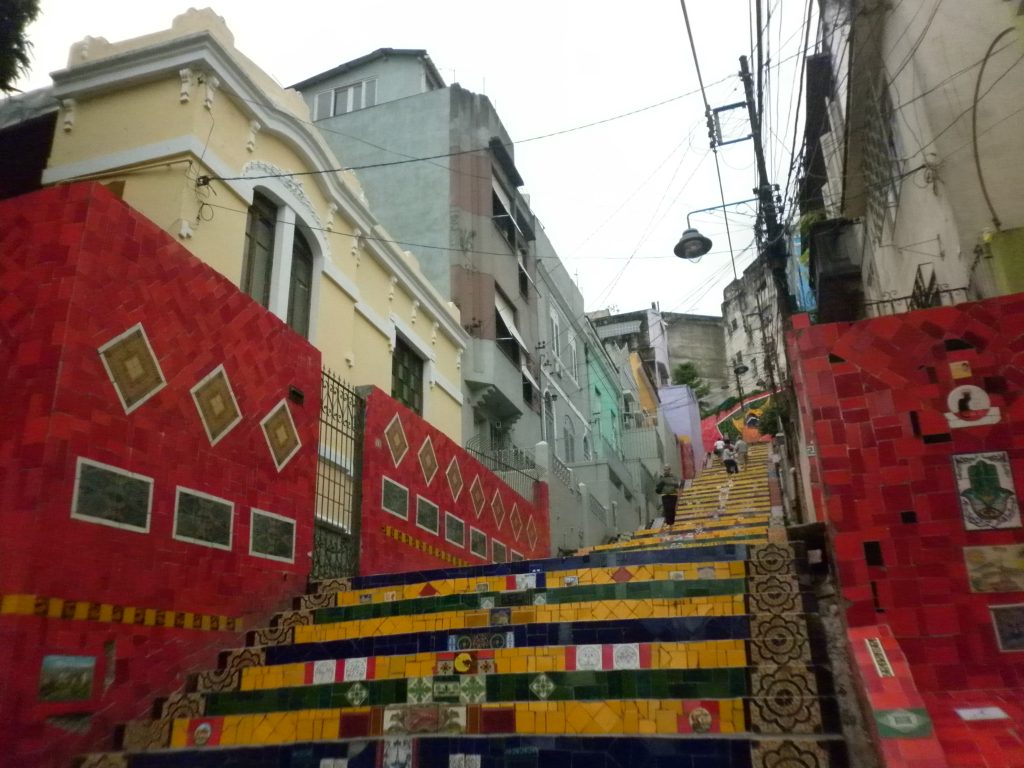 Everyone talks about how dangerous Rio de Janeiro can be, but I think that stems from how run down some parts of the city can be.  There are plenty of dark, empty alleyways, but there's no one in them.  Also, there were quite a few thug-like characters on the streets, but nothing to worry about.  The bottom line is that Rio de Janeiro is a safe city as long as you practice the street smarts that you would do back home.  (Granted, one wouldn't need a lot of street smarts walking around Clarendon in Arlington, VA, but common sense is- well… common.)
Rio de Janeiro is truly one of the world's great cities- right up there with Paris, London, New York, and Beijing.  Brazil's positive economic trends will help further its rise as not just a regional, but a world power, in the coming years.  In addition, it will host the summer Olympics in 2016, having beat Chicago, Madrid, and Tokyo for the bid.  Brazil is one of those rising stars whose publicity will only increase in the next few years.  I'm sure glad that I got to experience a part of it now before the hype really takes off.
For now, I'll continue to keep my eyes open for anything related to Brazil in the news and popular media, and I'll start trying to figure out a way to return to this lovely country that has captured my heart.